Let Me Fight For Your Future
Welcome to DFWCrimes.com…unparalleled experience.
You may be feeling anxious, confused, angry, scared or a multitude of other feelings as a result of this ordeal. The sooner you start assembling your defense with "the right attorney," the sooner you can have your peace of mind restored and your life restored to order. Simply put, the attorney you employ when you hire the Law Office of Katheryn H. Haywood has it all. With 20 years experience in criminal law, I am not new to defending clients who need immediate solutions and true understanding of their stresses and fears. My experience is simply unparalleled.
Iam widely recognized as one of the BEST trial attorneys in North Texas (DFW).  Other local attorneys often seek out my advice and counsel on their cases, and I'm often hired to supervise or assist them in their criminal trials.
When you hire me, I represent you. I do not send an associate to plead your case; no paralegal drafts your motions and when you call to discuss your case, you speak with me. I personally handle any case on which I am hired from the initial arrest to the conclusion of the proceedings. I return all phone calls and emails personally and strive to take some of the fear and anxiety out of the criminal justice system.
Being charged with a crime is emotionally taxing and can overwhelm every family member of the accused. Have an attorney who understands this stress is paramount to surviving the experience.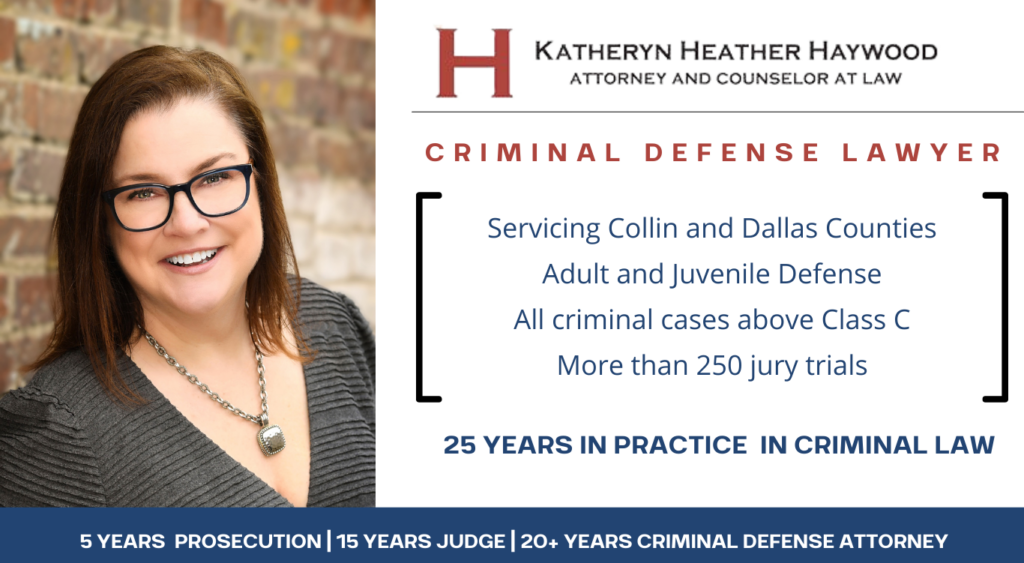 CERTIFICATIONS
Certifications
About Me
Katheryn Heather Haywood, a proud native Texan and a graduate of Texas A&M University (Honors) and Baylor University School of Law.
I am a criminal defense attorney in my soul and probably always have been. As a small child, I was often in trouble at school for defending another student against a false accusation or trouble they found themselves in. I have always hated inequality, racism, and bullying by police or persons in power and have felt a true affinity for the little man, the underdog.